HOME | EXHIBITIONS | MEMBERSHIP | WORKSHOPS | OPEN STUDIO | CONTACT
Winter Printmaking Open Studio Hours
Wednesdays 6:00-10:00 PM
Fridays 1:00-5:00 PM
Saturdays by appointment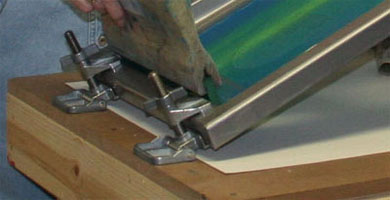 Open Studio hours provide experienced printmakers unlimited studio use during the posted hours.
You must have technical proficiency or must have previously attended a workshop to take part in open studio sessions. Bring your own plates or silk screens, paper, and ideas!
The studio is equipped for monoprint, collagraph, woodcut, waterless lithography, silk screen and some intaglio. Non-toxic methods are encouraged.

Work independently on your prints.
Start a new print project.
This is your chance to print those plates you've stored in the closet for years.
Tuition: $100/summer membership; or $40/month; or $15/session (no instruction)
There is an elevator!